Check reputations carefully, be clear about what the package includes and doesn't include, and what kind of service, delivery, and follow-up you can expect.
Some of us grew up thinking that any building made out of logs was a tiny dark cabin in the woods. There were hardly any windows in it, and doing homework or writing a letter meant squinting in candlelight through Abe Lincoln glasses as you dipped your pen into an ink well.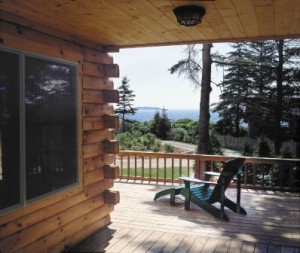 These days, however, a home built out of logs may feature thousands of square feet of living space filled with skylights, circle-top windows, sunrooms, and all the modern conveniences. In addition to its roominess and beauty, says Sue Boynton of Maine Pine Log Homes, a division of Hammond Lumber Company, today's log home requires very little interior maintenance and is remarkably energy efficient.
"Most log homes don't have sheetrocked walls like regular houses," Boynton says, "so there's no painting to do. And because the logs naturally have thermal mass and don't need to be insulated or covered, they keep the living space warm in winter and cool in summer."
Hammond began manufacturing Maine Pine Log Homes in 1987 from logs produced by its own mill. Many design options are available, including full-size homes as well as the traditional cabin. Most come as complete packages that include just about everything but plumbing, heating, electrical and appliances. The smaller cabins are available in shells for customers who want to build their own interiors. And, whether the customer selects a stock or a custom package, the pricing structure is the same with no up-charges. Either way, delivery can begin within 48 hours.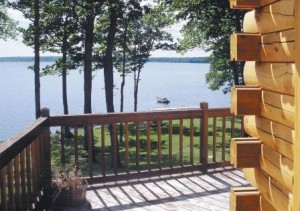 "We're happy to help people modify one of our existing designs to fit their own needs," says Boynton, who has been in the log home business for eight years. "Maybe they want to move a window or interior wall or add closets or a deck. It's fine if they don't know exactly what they want when they come to us, though it really helps if they do have a budget in mind."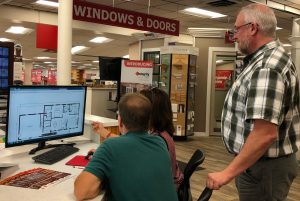 When Maine Pine Log Home customers are ready to pick out cabinets, countertops, and vanities for their home, the designers in Hammond's Kitchen, Bath, and Flooring centers will guide them through the process. And when it comes time for delivery, Hammond will bring the home to the site in stages convenient to the needs of the contractor. Boom trucks are used so that the materials can be carefully unloaded in the right places.
"It's really important," stresses Boynton, "that anyone researching log home companies check reputations carefully. Be clear about what the package includes and doesn't include, and what kind of service, delivery, and follow-up you can expect. Also, in our case, we're happy to recommend builders who have experience putting log homes together."
As published in Maine Women's Journal, Spring 2006