Yes, you read that right!
We cut your corners and package them
separately so they are easy to find.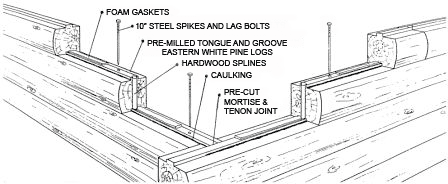 With our method, there's no need to scatter logs all over the job site to pre-sort them.
The starter logs are clearly marked for the first course. We mechanically unload all logs and place them where they will be readily accessible. Our pre-packaged bundles can be easily covered with tarps, until they are needed.
With our drawings, the contractor or experienced do-it-yourselfer will have the means to complete the log home of their dreams.
Logs are simply cut to the proper length on the job site which allows you the versatility to move a window or door. We'll supply you with the proper rough opening dimensions for all the doors and windows.
<< Request A Quote Material Lists >>